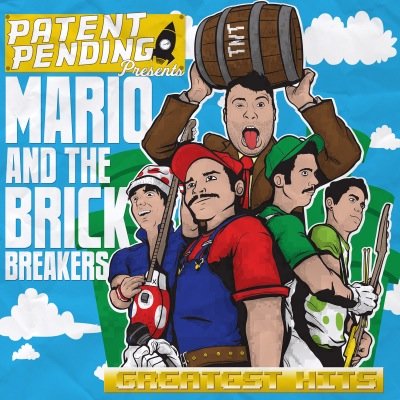 Moments ago Patent Pending's new Mario themed EP,
Patent Pending present Hey Mario and the Brick Breakers
was released!
The band have stressed that is 'Part 1' of the release, and the album cover does say this is the "Greatest Hits" so whether there's more Mario themed EPs due we don't know, but we're definitley excited!!
The guys released a preview video via YouTube as well as links to purchase the EP via twitter, you can watch the video
here
.
This marks the bands first release since
Brighter
was released in October 2013, the album included hit song
Hey Mario
, which is where this project was born.
The album can be picked up from the bands iTunes
here
and Amazon
here
.
iTunes reports the tracklisting as:
Hey Mario (3.01)
My Princess (2.22)
Boom Boom Pass the Mushroom (3.30)
Rainbow Road (4.08)
Up in My Tower (2.58)
$ Maker (2.46)  
Don't forget to check the guys new official
Instragram account
and brand new Patent Pending and the Brick Breakers
Twitter account
!